So it turns out counterfeit goods are more than just a crappy knockoff of luxury goods. They are a massively profitable trillion dollar industry that funds terrorists, organized crime, human traffickers, and criminals of all kinds! Jump in for a highly depressing look at what is actually going on here. And please, if you see a guy down an alley selling that cute Chanel bag for $49, DON'T BUY IT.
Hear all about it here, Hag hunnies!
RSS FEED: http://fashionhags.libsyn.com/rss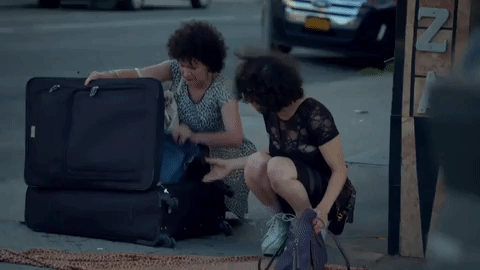 Some good reads on the counterfeit trade (and where lots of the research came from on this episode) are:
Drugs, Guns, and Fake Kicks: Inside the Counterfeit Economy by Steve Dool on Complex.com
Counterfeit.com  on The Economist
Forging Ahead on Vogue.co.uk by Ellie Pithers
Kering Sues Over Counterfeits on Vogue.co.uk by Scarlett Kilcooley-O'Halloran
Hopefully this episode will inspire you to do some of your own research and stop buying cheap knockoffs from garbage people.
Obsessions!
Evan is obsessed with the Business of Fashion series Voices that features tonnes of videos from the conference in which all facets of the industry are discussed. One in particular that stood out is the It's Time For Adaptive Fashion by Sinead Burke in which she discusses making the entire shopping experience (from clothing design to store design) better for people with disabilities. Very interesting, very inspiring, get on it.
Abby is obsessed with YouTube personality (is that what this is called?) Sailor J, a fucking hilarious lady who has all kinds of advice and how-to's, like this one, on contouring:
Katie is obsessed with her new fragrance from local natural beauty brand Quw'utsun' Made. The brand is run by a local Cowichan (hence the non-anglicized name of the brand) woman in North Vancouver and uses plant-based ingredients that are all natural The fragrance is called "The Weaver" and it is just so so nice and good and not masculine and not super feminine either and man it just smells awesome.
Check out the rest of her natural body lotions, candles, fragrances, etc at her website and support local First Nation women doing good work.
Thanks for listening!
Don't forget to tell your pals how great we are by writing a review on itunes or wherever you get your old podsies.
Find us in all the places:
Instagram@fashionhagspodcast
Twitter @fashionhagspod
Facebook at Fashion Hags Podcast
Got an idea for an episode? Email us at fashionhags@gmail.com, we love hearing from you.
Find Abby on Instagram @abbyshumka
Find Katie on Instagram @redbirdsuite
Find Evan on Instagram @evanducharmestudio also check out his website at http://www.evanducharme.com.
Ok bye.