Hey Hags, hope you all are doing okay after last week's apocalypse US election. We are with you and we are all going to be okay! It's going to be a rough go for a little while but we've never been afraid to put on some heels and WORK, honey!
Shall we get into a pot of tea? Lots to talk about in this episode as we are chatting about just what the hell is going on with sizing in clothing. But first!
LISTEN HERE: EPISODE 27
RSS FEED: http://fashionhags.libsyn.com/rss
Katie wants to draw some attention to the Movember movement and more specifically, Big Fun's Movember Mo-A-Day series of cartoons (@lebigfun):
Also, Katie got a sweet tattoo of the sweetest Jasper the Bear mascot from her hometown:
Evan is settling in to his new job and life in domesticity. Turns out an oven is used for things other than sweaters! Who knew.
Abby is still low on the give-a-fuck factor but did manage to make herself a couple of super cute tunics:
Also, everyone, fuck off talking to/touching/giving advice to pregnant women. Seriously. Just give up your seat on the bus like a decent human being and keep your shit to yourself, mmk?
On to the topic at hand: Sizing. What is the deal exactly? Everything seems to be different and inconsistent across brands, countries, stores, and styles. And what is happening for Plus Size women? Well, according to the Tim Gunn, Patron Saint of Fashion, the industry is failing them. (Here is a great article in the Washionton Post about how.)
The Plus-Size market represents a massive hole in the industry – both in terms of availability for the customer and in potential profits. This Bloomberg article gets into more detail and is totally worth a read. Turns out designers don't really feel like working harder to make things work for plus size customers. What the hell, guys?!
We get it, it's hard. It's one reason why people stick with brands they like when they find them. Fitting clothes is hard! For customers and designers. But sometimes you gotta do the work, honey.
Another great article about the Plus size market is this one from Fashionista and if you want to be depressed about the state of how the media defines beauty through models, check out this one.
Here is a great infographic from NYT that really help visualize how sizes can vary from brand to brand.
And "Vanity" sizing? Now that's some buuuuuuullshit. Read about this absurdity in this article from the Washington Post. This chart alone will make your head spin.
An interesting look at the history of how modern sizing began (a footnote taken from the Bloomberg article courtesy of the NIST Museum):
Fashion is just too interested in being pretty rather than being profitable, it seems. But Donatella knows what's up (at least, she says so but you'd be hard pressed to find anything bigger that a 12 with a Versace label on it…)
Asos has a terrific collection of on-trend plus size clothing that also (shocking) uses plus size women as models, not pretend plus size women who are actually a size 8.
As with so many things, men have it easier. Mens clothing is generally based on the traditional number sizing that reflects actual measurements as they relate to the body. Must be nice.
(Obviously that is an overstatement. Men still get stuck with the Small – Medium – Large size run that can be wildly different between brands. However, styles don't change as frequently as women's clothing does so it is arguably easier to find options in your size for men.)
Remember ladies, when you are shopping and you can't find the size that works, it is never the fault of your body, it is the clothes. There is always another dress, another shirt, another pair of jeans. Move on and feel good about yourself!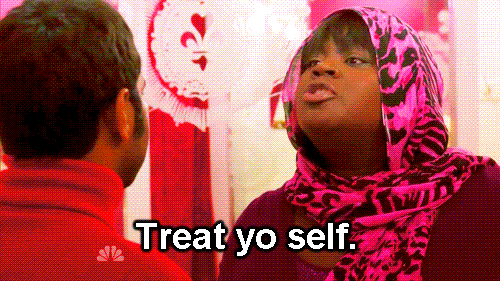 And check yourself, Onkel Karl. You ain't as boss as you think you are.
Obsessions!
Katie is obsessed with artist Jade Antoine and her amazing collection on instagram:
https://www.instagram.com/p/BMyLr3NBTtM/?taken-by=jadeantoine
Reminiscent of Canadian artist Ted Harrison and his famous illustrated book of Robert Service's The Cremation of Sam McGee:

Abby is obsessed with fine artist and quilter Luke Haynes:
His instagram is also worth a look (@entropies) and these images are taken from his website (lukehaynes.com).
Evan is obsessed with the new Netflix series The Crown.
Thanks again for listening!
We are planning on a Facebook Live event and would love to hear if you Hags are interested in watching/listening. We will get back to you about the when and the where so please like our Facebook Page to stay tuned and hang out with us!
As always, you can follow us on:
Instagram@fashionhagspodcast
Twitter @fashionhagspod
Facebook at Fashion Hags Podcast.
LISTEN, RATE, SUBSCRIBE on iTUNES! Don't forget to tell your friends how great we are.
Got an idea for an episode? Email us at fashionhags@gmail.com, we love hearing from y'all!
Find Abby on Instagram @abbyshumka
Find Katie on Instagram @redbirdsuite, also check out her blog, redbirdsuite.wordpress.com
Find Evan on Instagram @evanducharmestudio & @evndchrm, also check out his website at http://www.evanducharme.com
Remember: keep your pants on, it's only fashion.